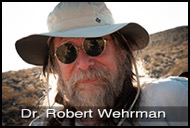 Update May 31, 2016
Great news! The print version of the book is due to be released in early July,
with the E-book version due in late June. It will be available for pre-orders
on Amazon in just a couple of weeks!


Walking Man
is the fascinating biography of the renowned writer
Colin Fletcher. Exhaustively researched by Dr. Robert Wehrman,
it is the chronicle of the custom-designed life of the world's most
famous backpacker. To learn more, watch the video below
and visit the
About The Man & The Book link.
"You are steeped in Colin research, even marinated. I'm glad for him, and for you.
Hail Mary's blow in the wind. Take a bow."

The late Carl D. Brandt, Colin's literary agent