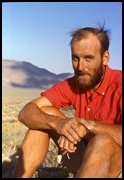 About the Man
Colin Fletcher was an immigrant who became a legendary American folk hero. He revealed a world Americans didn't know was out there and by doing so, multitudes took to the wilderness to see it for themselves.

In 1958, decades before anyone heard the term thru-hiker, he walked the length of California. Five years later he became the first person to traverse Grand Canyon National Park in one arduous, solitary journey, and, at age 69, became the first to travel the entirety of the Colorado River in a single craft. Each of these feats generated a book. Fletcher enchanted and enlightened millions of readers with his immense knowledge, curmudgeonly wit, unique style, and strongly conservationist views. Through his ten books, including The Complete Walker, which sold nearly a million copies, and The Man Who Walked Through Time, the largest selling book ever written about Grand Canyon (it's still in print after more than fifty years), he earned his great reputation as a celebrator of the natural world and stood ever vigilant against the plundering and despoiling of the planet.

As an eminent iconoclast writer, he inspired millions to follow his tracks out of the cities and into wilderness—sometimes into very dangerous places—in order to forge their own connection with the planet. Fletcher the Welshman turned a British custom—long distance walking—into something decidedly American.


About the Book
The story of Colin Fletcher's life, up until now, has never before been told, for its primary sources were only recently made available. The book focuses on Fletcher's explorations, writings, world-view, and most importantly, his highly complex personality. It is not a literary biography, nor a rehash of his writings. It is the chronicle of a large, adventure-filled life that takes place in the exotic and often spectacular regions where he lived and the lands through which he trekked and wrote about.

With the passing of Carl D. Brandt and Ash Green, Fletcher's literary agent and editor, respectively, there remain no living authorities on his literary career. Because he was obsessed with keeping his life private there is very little information available to the public. Indeed even his closest friends knew only bits and pieces of the entire story. Walking Man is the only place where all the components of Fletcher's life come together.


"Fans of Fletcher's work will be glad to see this biography. As Colin and I worked on The Complete Walker IV, he was keen to finish so he could concentrate on his autobiography, for which he'd been preparing over the years. The accident made that impossible, a bitter disappointment. Thus, I'm grateful to Wehrman for his well-researched account of a memorable life, enabling Colin Fletcher to walk on in memory."

Chip Rawlins, co-author of The Complete Walker IV