New!

Dr. Wehrman is now available for lectures and book signings.
Contact
.

The official Walking Man T-shirt is still available!
It's a one of a kind original design by
Bruce Burr
. And remember, a portion of the sales from the shirt will be donated to
The Nature Conservancy
. You get an original shirt and help support the preservation of our home, The Earth. All for $19.95 (plus $5.95 shipping)! How cool is that?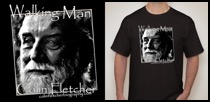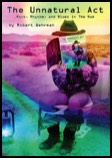 Also by Dr. Wehrman is
The Unnatural Act
.
It is the story of David Warren, a.k.a. Skeet, who is found wandering aimlessly across the Mojave Desert in August 1971. He tells us the tale of his incredible adventures in the Nam. He is a 19 year old, abstemious Presbyterian when he arrives in Vietnam. He is a naive patriotic bumbling virgin tuba player who comes of age under the tutelage of two drug-head hippies, a warlock, and a master musician.

"A biography of Colin Fletcher is long overdue. In this wonderful book Robert Wehrman really brings this key outdoor figure to life. Every backpacker and hiker should read it."

Chris Townsend, author and world famous long-distance walker